HELPING OUR COMMUNITY
De Lune Corp, the company behind the Mr. Pod's brand, places corporate social responsibility (CSR) at the heart of its operations and regularly seeks opportunities to serve the community, both locally and at-large. We strongly believe in enriching the lives of others, especially those in need, and are committed to making a positive impact on social and environmental fronts.
In June 2019, Mr. Pod's donated 4500 lbs of rice to Nourish Now, to be distributed to families requiring food assistance.
Nourish Now is a 501(c)(3) non-profit food bank, specializing in food recovery and facilitating donations from grocers, caterers, restaurants, bakeries, and other food donors for the benefit of children, families, and the elderly, as well as shelters, food pantries, and other organizations working to end hunger.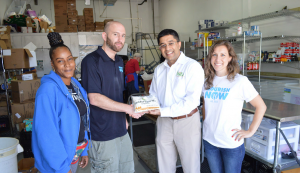 In July 2019, Mr. Pod's donated 4500 lbs of rice to ICM to be distributed to underserved families during the holy month of Ramadan.
ICM is a 501(c)(3) religious and educational non-profit organization serving its members by facilitating spiritual, social, intellectual and economic well-being. The Centre strives to build a working relationship with people of all faiths to promote understanding and tolerance that benefits all.